What is QQ Mail and what is it for?
29/10/2016 - Actualizado: 27/08/2020
Most people in North America and Europe have never heard of QQ Mail, yet it's one of the biggest email services in the entire world, comparable to Yahoo, and its associated social network QZone is second only to Facebook in terms of the number of active registered users. How can this be?
The answer, in one word, is: China. Because so many websites that we take for granted here are blocked in China, they have no choice but to develop alternatives that are permitted by the government. QQ Mail or qqmail is the country's most popular free email platform, and considering China's sizeable population, that allows it to rank alongside major services like Yahoo and Gmail.
But qqmail isn't just for people living in China – it's become quite popular in countries like Japan and Korea, and as more and more businesses in Europe and North America begin to work with companies based in these Asian countries, it's becoming increasingly clear that having a qqmail account makes these interactions much easier. Basically, anyone who routinely is in contact with people in China would benefit from a free qqmail account, whether it's for school, business, or any other reason. Even if you're just interested in meeting new people in China because you're trying to learn Mandarin, for example, getting a qqmail email address is a great first step to being able to reach people there.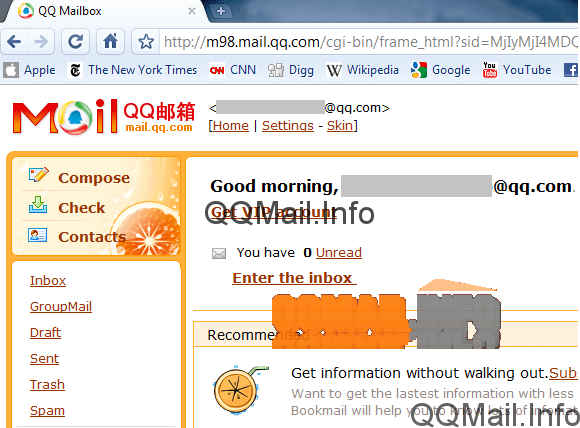 How does QQ Mail work?
QQ Mail has a very simple interface, but it essentially works exactly the same as any other free email service like Yahoo, Gmail or Outlook. When you register for an email address, you'll get a familiar-looking inbox with the ability to add contacts, send and receive messages, create email groups and send group messages, etc.
Although it is a very modern email service, it's almost reminiscent of the old AOL or MSN accounts in that your qqmail email is automatically a username for QQ's instant messenger. The difference being that, unlike your old AOL account, qqmail has options for voice and video chat, and pretty much everything else you would expect from an advanced email platform these days.
What are the benefits of a QQ Mail account?
QQ is a whole lot more than email. If you've heard of the Chinese company Tencent, basically everything they own and operate falls under the QQ umbrella, either directly or indirectly. The QQ ID or account number that makes up your qqmail email address can also be used to access almost any other part of the Tencent/QQ universe.
Now, some of these features aren't going to be practical for a majority of users outside of China because some are only offered in Chinese. But if you're committed to the idea, you can use an automatic translator extension in a browser like Google Chrome and survive just fine. This would be helpful if you're interested in connecting with people on QZone, China's Facebook equivalent.
A relatively new feature that proves QQ?? is aware of its own global expansion is automatic translation of instant messages. For anyone doing business in China who doesn't speak Chinese, this may very well be the best part about having a qqmail account.
QQ Mail and WeChat messenger
Something that everyone can enjoy, however, is linking a QQ ID to the messaging app WeChat. If you aren't already using WeChat, it's also owned by Tencent and pretty similar to other apps you might be familiar with, like LINE or WhatsApp, at least for users outside of China (there are about a million and one things you can do on WeChat inside China that you can't do outside the country).
There are some people who are interested in signing up with WeChat, but don't want to have their mobile phone number linked to the account for whatever reason. While the exact requirements to sign up for WeChat do change from time to time, if there's ever any way to get around the phone number requirement, it will be with a QQ Mail ID number.
Signing up for QQ Mail can be a little tricky for users outside of China, so make sure you check out our post on how to create a qqmail account.