QQMail Create Account Login and Logout
14/03/2022 - Actualizado: 12/10/2022
What is QQMail
Most people in North America and Europe have never heard of QQ Mail, yet it's one of the biggest email services in the entire world, comparable to Yahoo, and its associated social network QZone is second only to Facebook in terms of the number of active registered users. How can this be?
The answer, in one word, is: China. Because so many websites that we take for granted here are blocked in China, they have no choice but to develop alternatives that are permitted by the government. QQ Mail or qqmail is the country's most popular free email platform, and considering China's sizeable population, that allows it to rank alongside major services like Yahoo and Gmail.
But qqmail isn't just for people living in China – it's become quite popular in countries like Japan and Korea, and as more and more businesses in Europe and North America begin to work with companies based in these Asian countries, it's becoming increasingly clear that having a qqmail account makes these interactions much easier. Basically, anyone who routinely is in contact with people in China would benefit from a free qqmail account, whether it's for school, business, or any other reason. Even if you're just interested in meeting new people in China because you're trying to learn Mandarin, for example, getting a qqmail email address is a great first step to being able to reach people there.
Create a qqmail account
Your first step is to go to the sign up page. If you Google the search term "QQ sign up", you'll get two different results that will take you to what looks like the same page, however, in my experience the first result (zc.qq.com/en/) gets a little temperamental. So I prefer to use the second result, which is: https://ssl.zc.qq.com/v3/index-en.html
Or an easier way to do it is to write in your web browser preferably the following web address https://en.mail.qq.com/ oh take advantage and click on the url that we are sharing in this tutorial.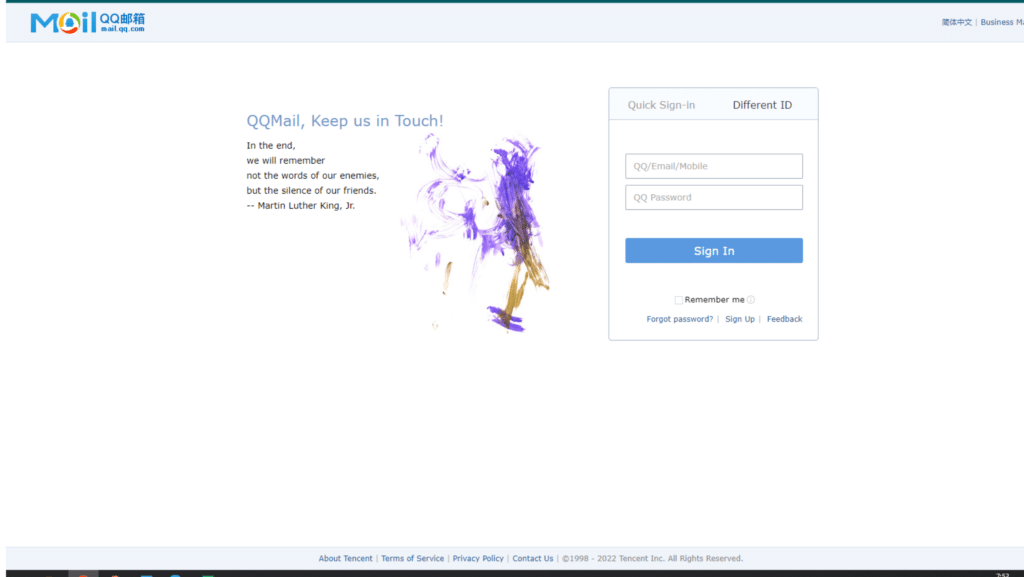 Then click on Sign Up to create account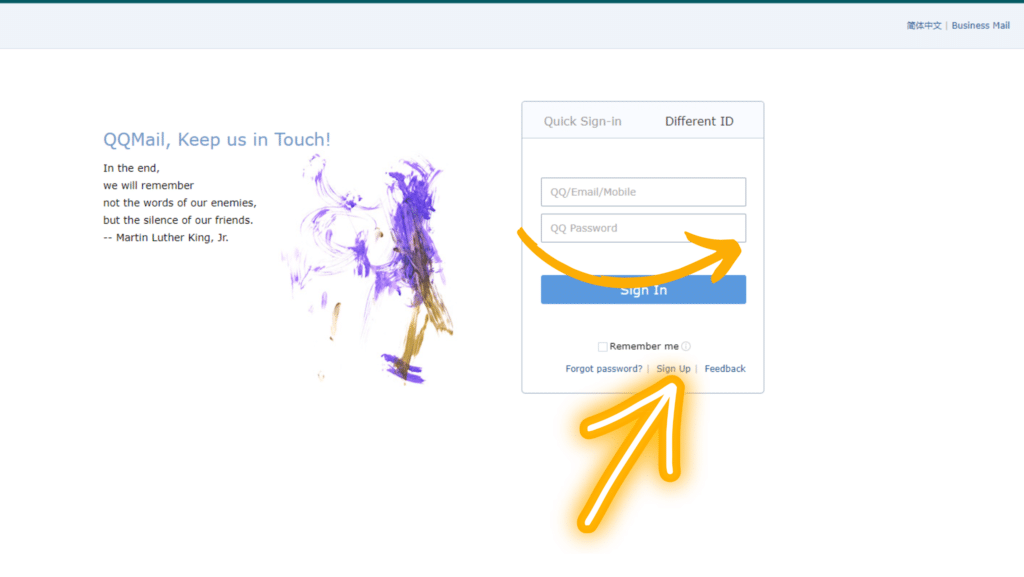 Now you need to fill in the different boxes with your information. In the first box, start typing your nickname and the second your password, do not forget that your password has capital letters and numbers and some special character to make it more secure, we will also need you to put your phone number with the code of your country, click send and I have read and agree to tencent QQ service agreement and privacy policy to receive the code.
After clicking on send code, a small challenge will appear, which in this case is to move a piece in the form of a hexagon to complete a puzzle
Next we are going to see the following message (Your mobile phone number 0986324257 is a security risk, please go to mobile QQ to register. If you haven't downloaded mobile QQ, scan the QR code below to download mobile QQ and register.)in which it asks you to scan a QR code if you do not have the QQ application installed on your phone, that application is necessary to verify that you are the owner of the phone number, here is where It makes it difficult for many of us to create an account in QQ Mail since the application is in a language that many of us do not speak.
This is my case because I live in a country outside the Asian continent, if you live in a country where the code arrives without problems, follow the steps and enter the code to continue with the creation of the account
Since this part is an old tutorial that I will update when I can find how to continue with the process of creating the account from outside Asia.
Continue by picking a nickname. It can be anything you want and it appears that it doesn't have to be unique, since you'll get a unique QQ ID number as your account identifier. Then, choose a password that meets the requirements stated in the little popup box, and enter it again to confirm it.
The QQ?? sign up page will let you know how strong or weak your password is, but it will allow you to continue with a weak one (although this isn't really recommended). Now, continue filling in the fields with your information, selecting your gender, birth date, and location. Finally, type the verification code in the box at the bottom to prove you aren't a robot, make sure the box is checked indicating you've read the fine print, and click "Sign up now".
Now QQ Mail is going to send you a text message to your mobile phone for additional verification.
IMPORTANT! If you just go typing your phone number in right now, it won't work because it's set to accept only numbers from mainland China. If your phone number isn't Chinese, as it most likely isn't, click on the link that says "select your country/region", and then pick your country with the appropriate code from the list.
After that, you can enter your mobile phone number and you should get a free SMS text message within a matter of seconds that contains a 6-8 digit code. Type that code into the box, and submit it. If it is the right code, you should be taken to a page telling you that QQ Mail sent an activation email to the address you used to sign up.
Note: The first time I entered my verification code, I got an error saying I had tried to sign up too many times and I was blocked for 24 hours. I have no idea how this happened except that maybe something weird happened with my connection and it tried to send the page twice. Anyway, it worked today, so if this happens to you, don't panic. Just try again the next day.
Next, you need to check your email for the activation link. I used Gmail to sign up for qqmail and it was sent to my "Updates" tab, but your mileage may vary. Click the big ol' link in the body of the email.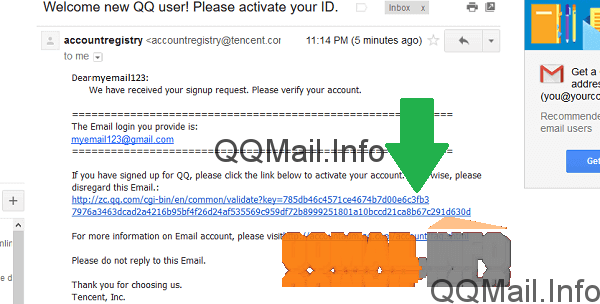 Tadaa! Your QQ Mail is all set up and you can log in by pressing the big green button. You can also set your security questions from this page, which is always a good idea.
And here's something neat. Instead of scribbling your new QQ number down on a post-it note that is going to fall off your screen and be lost forever, click on the tiny button that looks like a notepad next to the ID number. This will download a text file that you can open in Notepad.
Depending on your browser, the computer may try to open it as an html file. That's ok - if you get a popup that lets you select another program to open the file with, pick Notepad (for PC) or whatever program you usually use for .txt files. If you can't, go into your browser's downloads, right click the QQ number download and select "go to containing folder". Then, from that folder, you should have the option to right click and "open with…" Notepad. You'll get a cute little text file that says "Your QQ number is: **********", which you can save to your desktop so that it's always easy to find.
And that's it! QQ Mail has a fairly simple interface, so you can go ahead and log in using the email/password combo you provided at sign up, or using your new QQ Number and the same password. Click around and explore, but don't be terribly surprised if you run into some Chinese characters along the way.
To learn how to sign in and out of your new qqmail account, check out our post: How to open and close a session in QQ Mail.
How to sign in to qqmail
First, you'll need to go to the login page for QQ Mail. Remember that this is a Chinese email service, so you're going to want the English version of the sign in page. To get there, you can Google "qq mail sign in", and your first result will be the English login page. Note the "en." at the beginning of the URL - that stands for "English".
This is what the sign in page for QQ?? looks like. I imagine they change the quotation periodically, so you might see something slightly different.
Here is a close-up of the URL in case you prefer to type the web address in directly, rather than going through a search engine like Google. It's fairly simple to type in manually, and your internet browser will probably remember it the next time you want to sign in.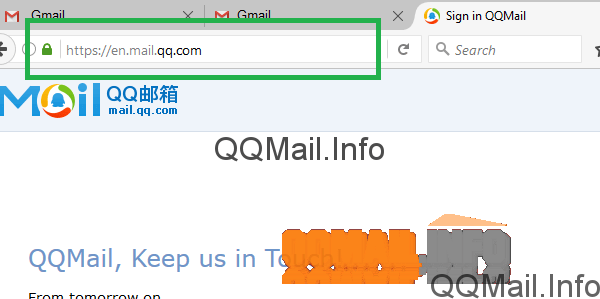 At this point, you'll sign into your qqmail just like any email account. In the first field, type in your primary email address (i.e. the one you used to sign up with, like Gmail or Yahoo). If you saved or wrote down your QQ ID number after you set up your account, you can type that in instead. However, if you try to sign in the first time with your QQ Mail email address, which is your QQ ID followed by "@qq.com", it probably won't work.
Then, type in your password and enter the captcha code if necessary.
At the bottom of the login box, there is a little checkbox that says "Remember me". If you are using your own private computer, checking this box is convenient because it lets you stay logged in all the time until you log out manually. But if you are using a computer that other people have access to, we recommend leaving this box UNCHECKED.
Ok, here's the weird part about your first time logging in to qqmail. It's going to ask you to "activate" your email. Isn't that what I did when I entered the verification code from my text message and when I clicked the confirmation code in my email upon sign up? Well, apparently not. That set up your QQ Number, but now you have to confirm that you actually want to use your email. Don't worry, this only happens the first time you log in.
Next QQ is going to ask you to share the news with your friends about your new qqmail email. Except, you probably don't have any QQmail friends yet. So, the only option you have here is to "skip". Again, this is something that you only have to do the first time you sign in.
Now you finally have a verified, confirmed, activated, bona fide QQ Mail email account. There are some notes about what your new email capabilities are, like storage space and file size for attachments. When you're ready to go to your brand new inbox, click on "Enter My Mailbox".
Welcome to QQ Mail (but, like, for real this time). As you can see, your inbox layout is fairly simple. You have probably received a welcome message from QQ, and I sure hope there isn't any life-or-death information in there, because it's in Chinese. If you can read Chinese, you're leagues ahead of me.
How to sign out of qqmail
Now, if you are using your own personal computer and aren't worried about random people sneaking into your QQ Mail, there's no need to sign out. However, if you're on a shared device, it's always smart to sign out of qqmail before leaving the computer. You can also sign out just so that you can sign in again and see that you don't have to go through the whole "activation" rigmarole like you did the first time. Just find the "Sign out" link in the top-right corner and click on it.
When you see this page, you know that you've logged out of your qqmail account.
Now, just for fun, you can go back to the sign in page by clicking "Sign in again". And from now on, when you log into qqmail, it will be the standard "username, password, go". You might even be spared the captcha code if you're on a computer that QQ Mail recognizes.
Oh, and if you're curious about those Chinese characters up at the top next to "Business mail"… it will take you to the original qqmail sign in page in Chinese. So if I had to guess, I'd say that's Chinese for "Chinese".
If you think you can handle things from here, have fun with your new qqmail email address! For a guide on using the basic functions of your new account, see our post: How to send a message, video, image or file with QQ Mail.