How to open a QQMail account in English
QQMail is one of the world's biggest email providers and is associated with one of the world's biggest social networks, but if you live in the United States, Canada, UK, Australia, etc. you may have never heard of it. That's because QQ Mail (or qqmail) is a Chinese email service created to give residents of China alternatives to sites and services that are banned in that country.
That doesn't mean that only Chinese people can sign up for qqmail, though. In fact, it's growing in popularity, especially among people who have business partnerships in China, penpals, or who want to find someone to practice their Chinese with.
That being said, signing up for qqmail can be tricky for English speakers residing outside of China. Here, we have a step by step tutorial for how to open a QQMail account in English.
How to open a qqmail account
Your first step is to go to the sign up page. If you Google the search term "QQ sign up", you'll get two different results that will take you to what looks like the same page, however, in my experience the first result (zc.qq.com/en/) gets a little temperamental. So I prefer to use the second result, which is: https://ssl.zc.qq.com/en/index.html
This is what the QQMail sign up page looks like:
And here is a close-up shot of the URL of the version of the page that doesn't start randomly blinking blue lights in all the drop-down boxes:
Now you need to fill in the different boxes with your information. In the first box, start typing your primary email address (e.g. Gmail, Yahoo, etc.). When you do, a dropdown menu will appear so you can select the domain for your email address (that's the part that comes after the "@" sign). You should get a nice green check mark when QQ verifies that this is a valid email address.
Continue by picking a nickname. It can be anything you want and it appears that it doesn't have to be unique, since you'll get a unique QQ ID number as your account identifier. Then, choose a password that meets the requirements stated in the little popup box, and enter it again to confirm it.
The QQ?? sign up page will let you know how strong or weak your password is, but it will allow you to continue with a weak one (although this isn't really recommended). Now, continue filling in the fields with your information, selecting your gender, birth date, and location. Finally, type the verification code in the box at the bottom to prove you aren't a robot, make sure the box is checked indicating you've read the fine print, and click "Sign up now".
Now QQMail is going to send you a text message to your mobile phone for additional verification.
IMPORTANT! If you just go typing your phone number in right now, it won't work because it's set to accept only numbers from mainland China. If your phone number isn't Chinese, as it most likely isn't, click on the link that says "select your country/region", and then pick your country with the appropriate code from the list.
After that, you can enter your mobile phone number and you should get a free SMS text message within a matter of seconds that contains a 6-8 digit code. Type that code into the box, and submit it. If it is the right code, you should be taken to a page telling you that QQ Mail sent an activation email to the address you used to sign up.
Note: The first time I entered my verification code, I got an error saying I had tried to sign up too many times and I was blocked for 24 hours. I have no idea how this happened except that maybe something weird happened with my connection and it tried to send the page twice. Anyway, it worked today, so if this happens to you, don't panic. Just try again the next day.
Next, you need to check your email for the activation link. I used Gmail to sign up for qqmail and it was sent to my "Updates" tab, but your mileage may vary. Click the big ol' link in the body of the email.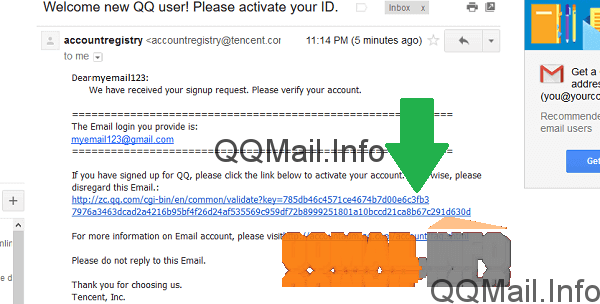 Tadaa! Your QQMail is all set up and you can log in by pressing the big green button. You can also set your security questions from this page, which is always a good idea.
And here's something neat. Instead of scribbling your new QQ number down on a post-it note that is going to fall off your screen and be lost forever, click on the tiny button that looks like a notepad next to the ID number. This will download a text file that you can open in Notepad.
Depending on your browser, the computer may try to open it as an html file. That's ok - if you get a popup that lets you select another program to open the file with, pick Notepad (for PC) or whatever program you usually use for .txt files. If you can't, go into your browser's downloads, right click the QQ number download and select "go to containing folder". Then, from that folder, you should have the option to right click and "open with…" Notepad. You'll get a cute little text file that says "Your QQ number is: **********", which you can save to your desktop so that it's always easy to find.
And that's it! QQMail has a fairly simple interface, so you can go ahead and log in using the email/password combo you provided at sign up, or using your new QQ Number and the same password. Click around and explore, but don't be terribly surprised if you run into some Chinese characters along the way.
To learn how to sign in and out of your new qqmail account, check out our post: How to open and close a session in QQ Mail.